The Persistence ecosystem continued to grow and blossom throughout January, as we stayed true to our commitment and innovation by continuing to build upon the underlying infrastructure, bringing us one step closer to ultimately realizing the full potential of our liquid staking economy.
To learn more, below you can find a high-level recap of the key highlights and milestones we achieved last month.
Major Highlights 🚀
Three years ago on 3rd January, Persistence was introduced, marking the beginning of an exciting chapter as we joined the pioneers of Cosmos in building the interchain ecosystem.
pSTAKE Launched liquid staking for ATOM on 12th Jan 2023. Within less than a month of launch, total value unlocked (TVU) has reached ~58,683.84 ATOM.
Dexter published a Deep Dive article for its plan for base. Read it here.
Witnessed first glimpse of Mr. Interchain MoneyBags, A panda who's here to revolutionize lending in Cosmos ecosystem build on Persistence.
Persistence Monthly Stats 📊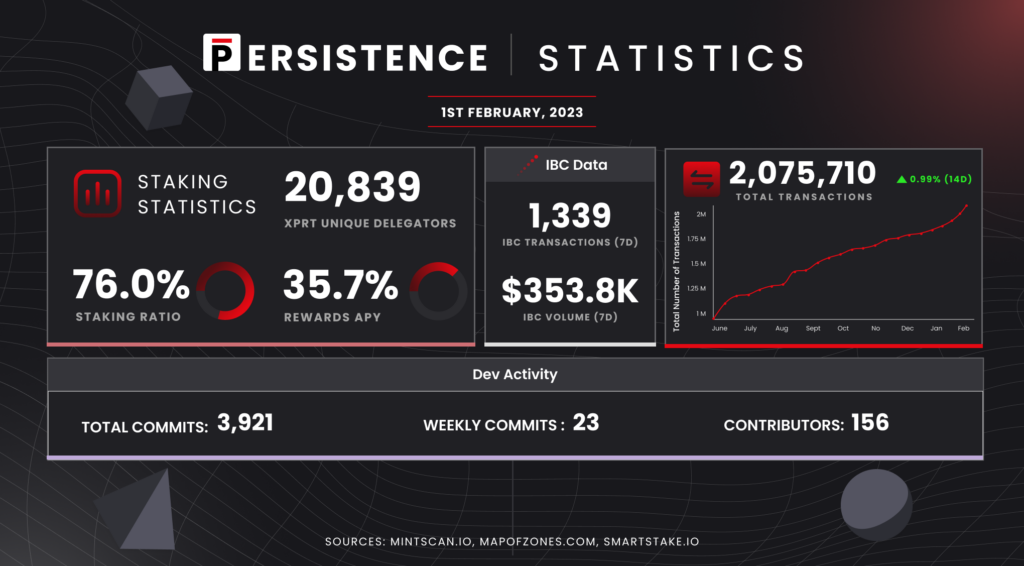 Ecosystem 🦾
Tech & Product Updates ⚒️
Proposal #16 on the Persistence Core-1 chain passed and 99.93% of participating voting power favoured the proposal. This proposal will be pivotal point in the XPRT inflation. Learn more about the proposal in our detailed thread here.
Persistence Core-1 Chain went through an emergency patch to V6.1. While the upgrade to V6.0 was quick and smooth, a small piece of the upgrade code (fix for pSTAKE c-value) did not run successfully, which could have prevented stkATOM from launching as scheduled date (i.e. 12 Jan 2023)
Join Our Community
Persistence.one | Twitter | Telegram | Discord | Blog | YouTube