TL;DR
One year ago today, March 30th of 2021, the Persistence Core-1 mainnet was launched.
The network has continued to strengthen throughout this past year in terms of all measurable metrics, and the community has strengthened in tandem.
During this past year the Persistence team has been heavily involved in the growth of the broader ecosystem, including spearheading the InterNFT initiative and advancing the PoS industry via AUDIT.one.
Along this journey we realized that solving the pain points of the PoS industry via liquid staking was our true mission, and pSTAKE was born.
pSTAKE has grown significantly, quickly becoming the most prominent liquid staking solution for ATOM and XPRT, building strong foundations for the next phase of growth.
We're now pushing ahead on our mission to make Persistence the liquid staking hub of the PoS economy.
After more than two years of relentless ideation and development, the Persistence Core-1 mainnet went live on March 30th of 2021 with the minting of block #1.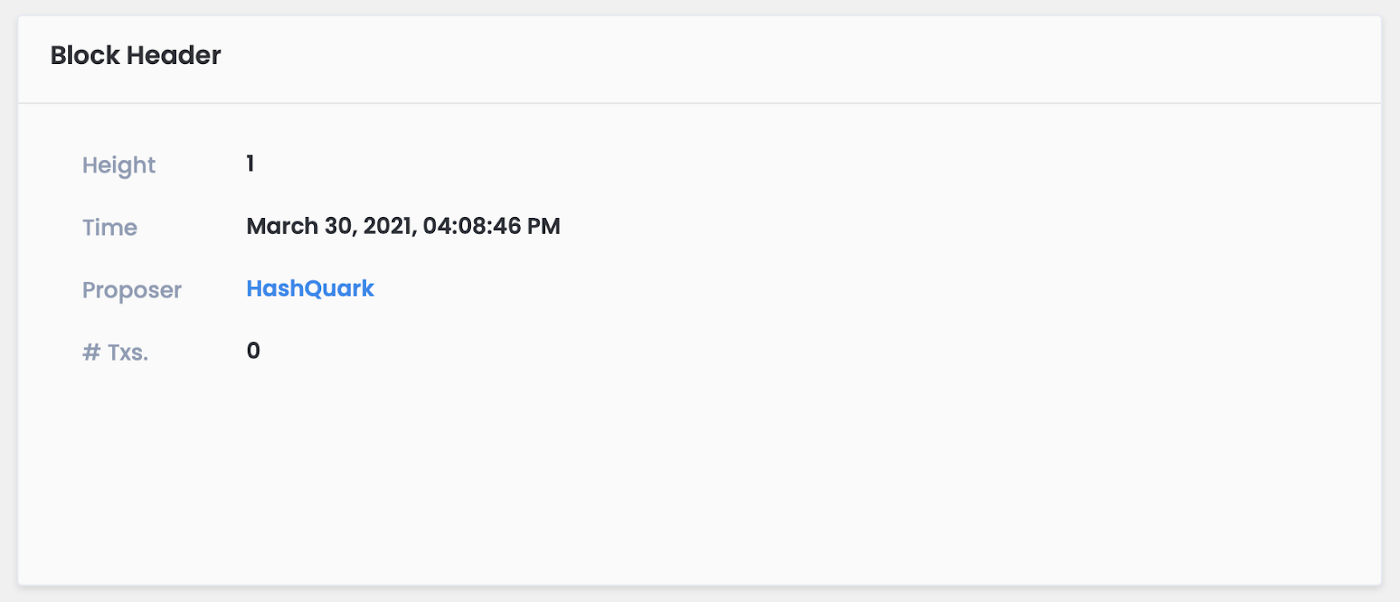 This signaled the official birth of the Persistence network and the next major milestone on our journey towards revolutionizing the PoS industry.
During this past year, we've built firm foundations with a strong network and community, assisted in accelerating the advancement of the broader ecosystem, and made huge progress on our mission to become the liquid staking hub of the PoS industry.
Read below to learn more about our progress and journey thus far.
Building Firm foundations: Network and Community
Throughout this past year, the Persistence network and community have continued to go from strength to strength, consistently growing in terms of all measurable metrics.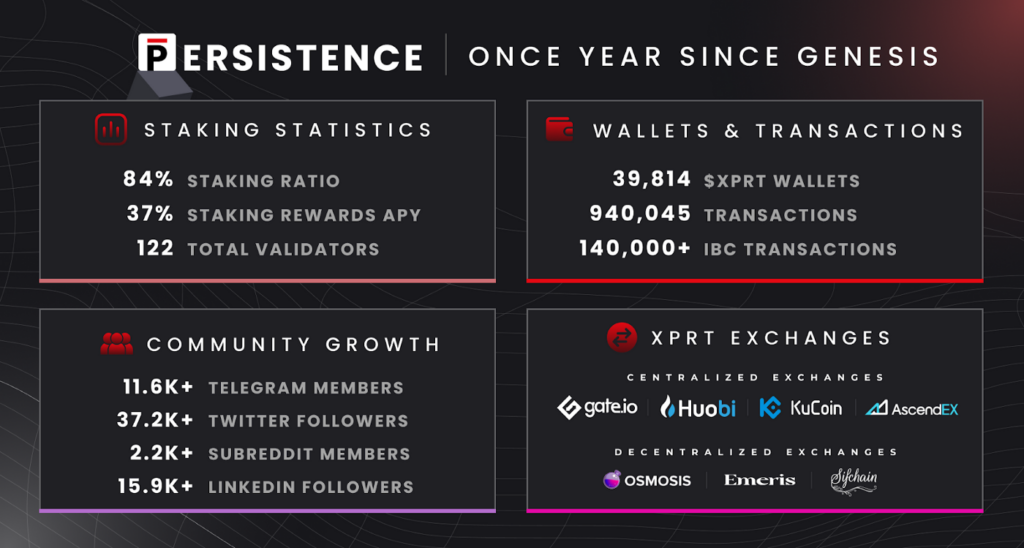 Stakers
Stakers are the core contributors of any PoS network. In the case of Persistence, we've been lucky to have an exceptionally active and rapidly growing base of XPRT stakers. There are now 4,418 stakers currently earning 37% APY in staking rewards. Momentum is building, with the number of XPRT stakers increasing by over 21% in the past 30 days alone.
Wallets and Transactions
Wallet and transaction numbers indicate the health of a network and its community. The number of XPRT wallets has increased dramatically over this past year, currently sitting at over 39,000, and transaction numbers continue to grow exponentially. To date, more than 940,000 transactions have been conducted on the network by our growing community.
Validators
The Persistence Core-1 mainnet was launched with a limited set of select validators in order to ensure a smooth mainnet launch and the best possible staking experience. Since then, the Persistence network has become more decentralized with the expansion of our active validator set to 75 validators, encompassing industry-leading players and smaller community-run nodes alike.
Proposals
Multiple governance proposals have been submitted this past year, each designed to push Persistence forward on our journey in various respects:
Increase Persistence active validator set from 50 to 75
XPRT on Osmosis — allocate Community Pool funds to incentivise XPRT/UST pool liquidity providers on Osmosis
Upgrade PersistenceCore chain to v2
Decrease voting period for proposals
Community Growth
In the past year our community has surged from a handful of community members to over 65,000 supporters across various platforms. This exponential growth in awareness is continuing at a staggering rate. We're honored that so many crypto enthusiasts want to be a part of our journey.
We have also launched regional communities for various emerging global crypto hotspots including China, Vietnam and Thailand, and will continue to expand our presence around the globe.
Accelerating the Advancement of the Broader Ecosystem
Persistence's progress didn't take place in a vacuum; we've grown alongside the broader ecosystem which we've helped to push forward along our journey. We have been making, and continue to make, valuable contributions to accelerate progress in multiple facets of the industry.
Cosmos Ecosystem
Persistence has always been a staunch supporter of the Cosmos ecosystem. To accelerate growth and adoption, early in our journey Persistence introduced Cosmos Network to India through Cosmos India, a non-profit initiative. Cosmos India today is the largest local Cosmos community.
We also partnered with Cosmos to launch 'HackAtom India: Build the Cosmos', the first virtual Cosmos Hackathon to give developers in India a chance to begin their journeys into the Cosmos ecosystem.
To celebrate and explore the monumental progress of the Cosmos ecosystem, in October of 2021 Persistence hosted 'Cøsmos SZN', a virtual event inviting Cosmos thought leaders and community Cosmonauts alike to come together to discuss how far Cosmos has matured, recent IBC developments and the inevitable disruption coming to the Cosmos DeFi and NFT sectors.
InterNFT
Persistence was awarded a grant by the Interchain Foundation (ICF) to develop Interchain Standards for NFTs and Metadata in August of 2020.
Since then we've been spearheading the initiative alongside ixo, attracting the support of many other innovators who have since joined the InterNFT Working Group.
The Working Group believes in a future with many blockchains interoperating with one another, that includes NFTs moving from one chain to another. By building common standards together we are making this a reality sooner.
PoS (Proof-of-Stake)
To build a strong network and help the Persistence ecosystem validators better understand our project and our vision, we wanted to understand their challenges and pain points. Hence, in Q2 of 2020, we established AUDIT.one as one of the validators for the Persistence ecosystem.
As we grew Persistence post mainnet launch, we identified several key areas where AUDIT.one could not only help Persistence's chain but also the broader PoS network ecosystem. Thus, we became more heavily involved in the PoS space and devoted more time and effort to pushing the industry forward.
With the success of Persistence's StakeDrop campaign, it was clear that there was a huge demand from stakers to generate additional yield on their staked assets. We realized that this was a major pain point not only hindering stakers (the core contributors of PoS networks) but was also stifling the growth of the burgeoning DeFi sector.
Honing in on Liquid Staking
While PoS is undoubtedly becoming more prominent, the primary drawback hindering the continued growth of it and the DeFi industry is the locking up of digital capital. To secure PoS networks, stakers' funds are rendered illiquid for their staked duration. This ultimately slows capital velocity and reduces the amount of capital able to participate in DeFi.
Through our experiences, we realized that our hearts (and heads) lay with solving these pain points via liquid staking. Thus, pSTAKE was introduced into the Persistence ecosystem.
pSTAKE
pSTAKE aims to alleviate the illiquidity experienced for staked assets through a mechanism called liquid staking. By issuing 1:1 pegged representative tokens, users can secure PoS networks natively and have the ability to participate in DeFi at the same time, increasing available capital and unlocking opportunities for increased yield.
The pSTAKE application went live on mainnet in July 2021 and was embraced by industry powerhouses including Galaxy Digital, Tendermint, Kraken Ventures, Coinbase, and others, leading to a $10M+ raise during pSTAKE's strategic funding round. This was followed by the hugely successful PSTAKE token sale hosted on CoinList in December.
pSTAKE has launched liquid staking support for Cosmos' ATOM and Persistence's XPRT tokens, with support for more assets such as ETH (Ethereum), SOL (Solana), and other Cosmos-based assets coming soon.
Amid increasing traction, pSTAKE quickly became the most prominent liquid staking solution for ATOM and XPRT, with more than $57M of assets now staked via pSTAKE. The liquidity of stkASSET-ETH pools on SushiSwap now stands at almost $22M in TVL.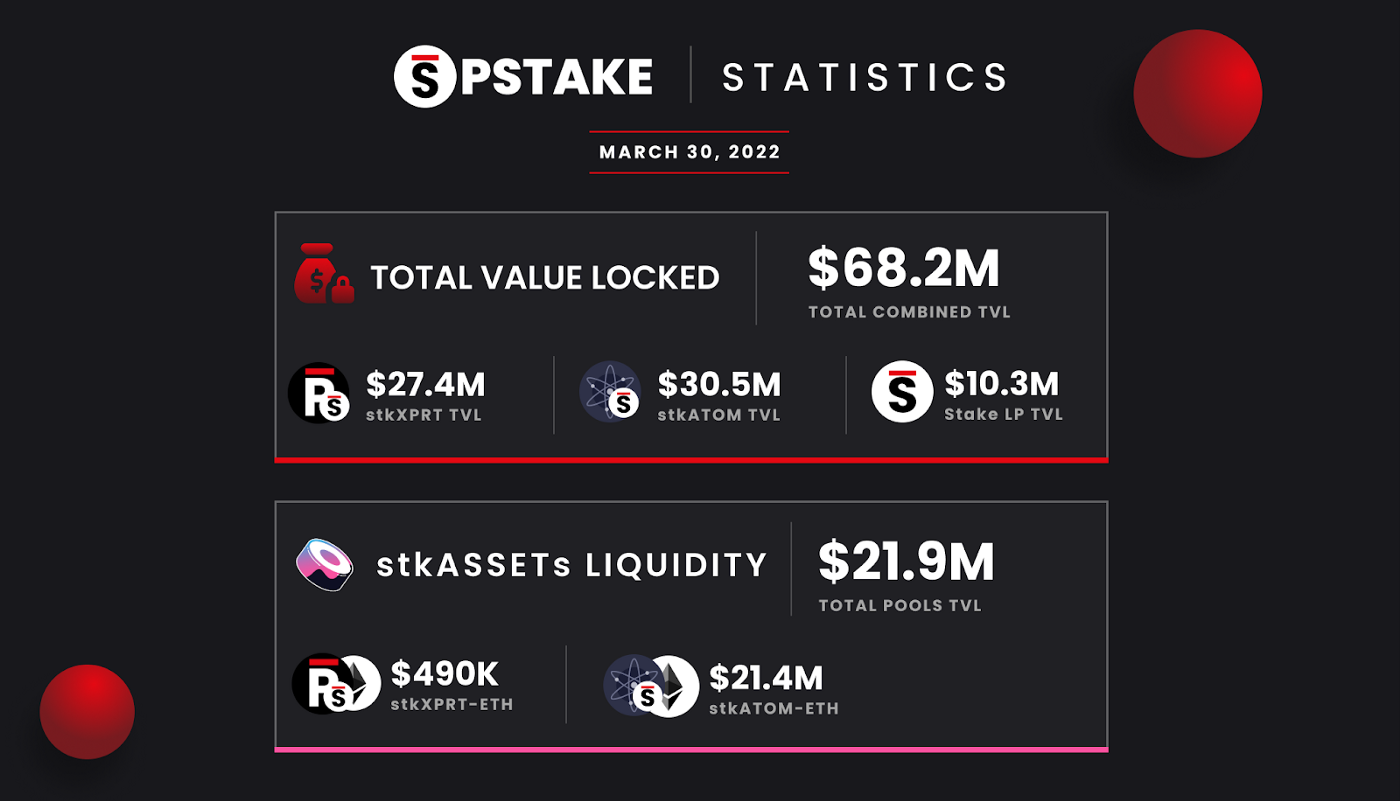 With XPRT and PSTAKE working in tandem to accelerate growth, pSTAKE's momentum is building. Learn more about the relationship between XPRT and PSTAKE here:
Onward: Cementing Our Place in PoS
Our core mission for this year is to cement Persistence's place as the liquid staking hub of the PoS industry, which will be achieved by driving the utility and adoption of pSTAKE's stkASSETs.
Multiple developments are currently underway which will be instrumental in our next phase of expansion:
Additional stkASSETs on pSTAKE: As the pSTAKE ecosystem begins to branch out, we plan on soon adding an additional set of supported assets — this will include ETH (stkETH) and SOL (stkSOL) for Ethereum and Solana token holders, respectively. This is expected to roll out in Q2 of 2022.
pSTAKE Launch on Persistence Chain: pSTAKE will be launching on the Persistence Core-1 chain, which means stkASSETs will be available and interoperable within the Cosmos ecosystem via IBC — thus increasing DeFi utility and accessibility of stkASSETs within the broader ecosystem. The implementation is currently underway, expected to go live in Q2 of 2022.
Launch of stkASSET/stkASSET Pools: We will soon be deploying stkASSET/stkASSET liquidity pools (e.g. stkATOM/stkXPRT). LPs of these pools will not need to deploy any unstaked capital and will earn staking rewards and LP rewards with 100% of their pool position, maximizing yield. This will encourage stakers to hold multiple stkASSET tokens, accelerating the adoption of pSTAKE. Expected to launch in Q2 of 2022.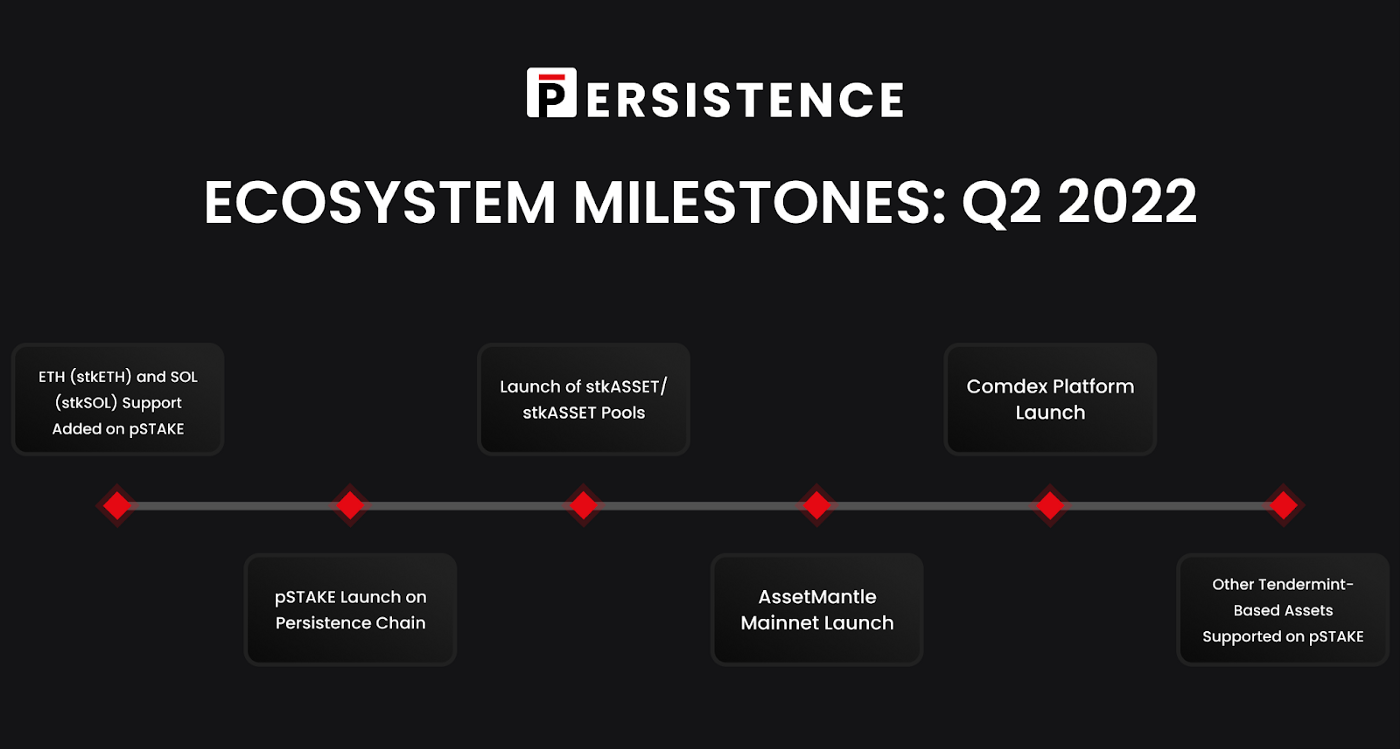 Read more about our mission for 2022 here.
Concluding Thoughts
We've come a long way in the past year, but this is only the beginning. The seeds that we've planted are beginning to blossom into a robust and multifaceted liquid staking ecosystem.
Every development and integration milestone brings us a step closer to making liquid staking the default staking choice of the PoS economy. The Persistence ecosystem is strongly positioned to both drive, and derive value from, significant growth of the liquid staking industry in 2022 and beyond.
Join us on this journey by following our socials below.
About Persistence
Persistence is a Tendermint-based, specialised Layer-1 network powering an ecosystem of DeFi applications focused on unlocking the liquidity of staked assets.
Persistence facilitates the issuance and deployment of liquid-staked stkASSETs, allowing users to earn staking rewards while participating in DeFi primitives, such as lending/borrowing and liquidity provisioning on DEXs.
Persistence aims to offer a seamless staking and DeFi experience for PoS (Proof-of-Stake) users and enable developers to build innovative applications around stkASSETs.
Join Our Movement
Twitter | LinkedIn | Telegram | YouTube | Reddit | [email protected]