The Persistence team has been diligently working to deliver on many of our key milestones and goals to help grow and expand our ecosystem. Our ultimate vision is to become the leading liquid staking hub of the PoS industry through our ecosystem components — every day, we're getting closer to making this a true realization.
We recently announced several key insights surrounding our 2022 mission and how our ecosystem components will work in harmony to achieve our goals. Accordingly, we're continuing to push initiatives forward based on our targets and goals, putting the pieces together that will ultimately consolidate to bring forth our broader vision.
Recapping Our Goals for 2022 & Beyond
Our core mission for this year will be to cement Persistence's place as the liquid staking hub of the PoS industry, which will be achieved by driving the utility and adoption of pSTAKE's stkASSETs (liquid staked assets).
Use-cases for stkASSETs will thus be expanded through a range of applications and integrations bridging the PoS and DeFi sectors. All internal initiatives (led by the Persistence core team) are focused primarily on driving innovation around staking and liquid staking. Ecosystem applications are being encouraged to build use-cases around stkASSETs.
Internal Products
pSTAKE: pSTAKE is a key component of the Persistence ecosystem, enabling liquid staking for users and the issuance of stkASSETs on the Persistence Core chain. We're committed to continually expanding pSTAKE's supported assets, thereby continually expanding our addressable market. pSTAKE will continue to drive the expansion of DeFi utility and liquidity of stkASSETs, thereby increasing demand and adoption.
AUDIT.one: Via AUDIT.one, Persistence's validator arm, we are continuing to become more deeply integrated within, and a critical component of, the overall PoS industry. We aim to reach $2 billion in assets under delegation by Q4 of 2022, while becoming one of the most prominent validators on chains within Cosmos and beyond. Moreover, we're working towards becoming a node operator for all major (liquid) staking pools in addition to creating a one-stop-shop dashboard for staking & liquid staking.
We'll also be creating additional opportunities for the growth of stkASSET utility and adoption, including activities such as hackathons, grants programs, partnerships, and more to strengthen innovation and leverage collective brainpower to further drive our vision.
XPRT Utility & Value Accrual
XPRT, Persistence's native staking token, lies at the core of the Persistence ecosystem. Accordingly, n 2022 and beyond, the main focus for the team will be to drive significant economic activity on the Persistence Core-1 chain primarily via liquid staking-related activities, thereby accruing value to XPRT (and stkXPRT) holders and stakers.
The ecosystem of applications outlined above will synergize to build an economy providing significant economic energy to the Persistence protocol, funneling value to the XPRT token in the process:
Once pSTAKE begins to issue stkASSETs on the Persistence Core chain (expected Q2 of 2022), users will deposit their native assets on the Persistence chain (via the pSTAKE liquid staking module) to issue IBC-enabled stkASSETs against their staked assets. Transaction fees will be generated in the process, which are partly distributed to XPRT stakers.
In addition, pSTAKE (as well as future smart contract-based applications) will provide further value to XPRT stakers via a fee-sharing model (sharing user fees incurred for using the product), funneling economic energy to XPRT in proportion to the rate of issuance of stkASSETs.
Furthermore, IBC transactions from Persistence ecosystem App Chains will be routed via the Persistence chain, generating further transaction fees.
Essentially, as the number of stkASSETs issued via pSTAKE increases alongside adoption, so does the amount of fees generated (transaction and user fees) — which are partially distributed to XPRT stakers.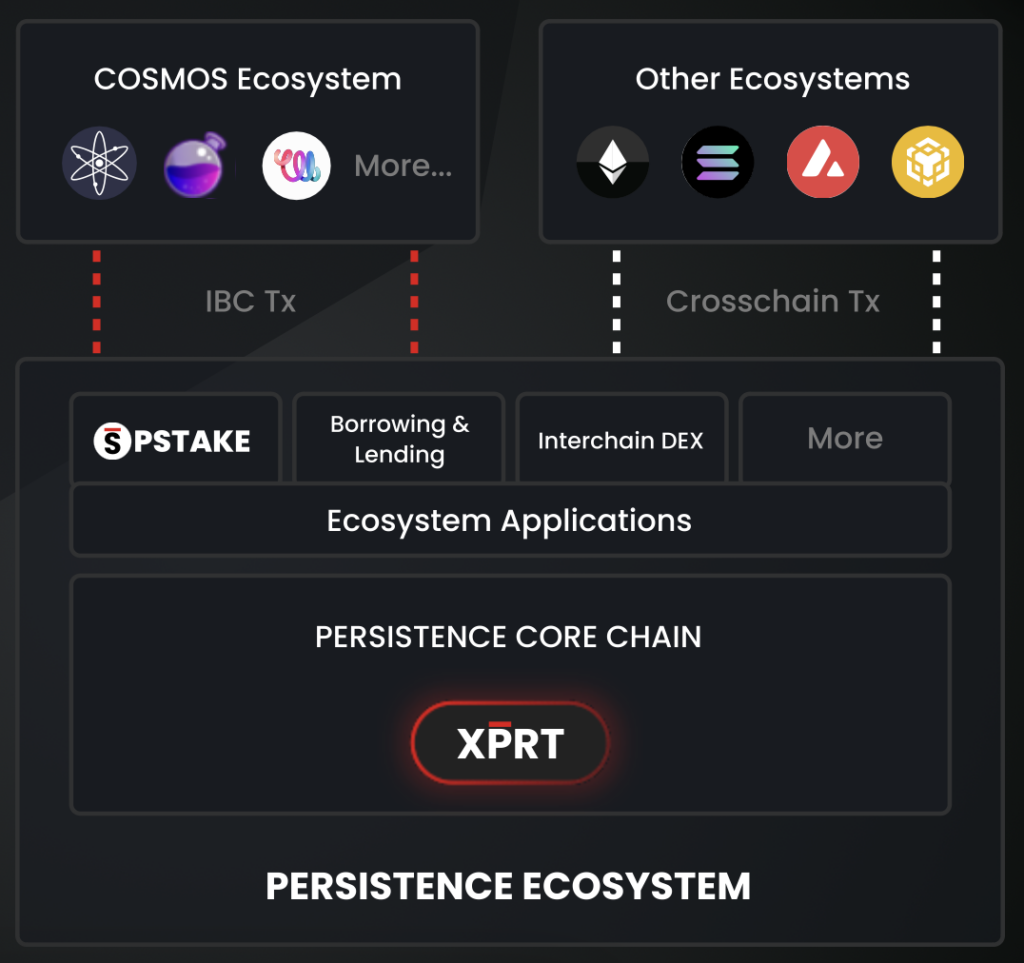 Continually expanding the utility and accessibility of XPRT itself is also a priority of the team. One of the most recent developments on this front was the deployment of the XPRT/UST pool on the Osmosis DEX. The pool has been incentivised to provide a high APY for liquidity providers, which in turn will help spark additional liquidity from both XPRT and UST holders while further integrating XPRT into the broader ecosystem.
The fact that the Persistence chain is IBC-enabled means that both XPRT as well as stkASSETs benefit from fluidity across other compatible Cosmos blockchains, allowing them to thrive not only in the Persistence ecosystem but also in other IBC-enabled environments.
As we strive to become leaders of the PoS industry, we will continue to stay true to the ideals of Persistence and continuously fight to make the ecosystem bigger, delivering more value for XPRT (and stkXPRT) holders and stakers.
In order to better understand our vision for XPRT and its role within the Persistence ecosystem, you can read the dedicated piece on our blog here.
$XPRT & $PSTAKE: Fueling the Persistence Ecosystem
Persistence's vision of becoming the liquid staking hub of PoS industry and making pSTAKE's stkASSETs the default assets of the PoS economy will be realised through parallel growth on two intertwined fronts, driven by $PSTAKE and $XPRT respectively.
Accordingly, $XPRT will support growth at the Persistence ecosystem level by encouraging the development of innovative stkASSET-focused dApps within the Persistence ecosystem.
Meanwhile, $PSTAKE will be largely directed towards supporting growth at the pSTAKE protocol level by incentivising development and integrations of existing and new stkASSETs.
Together, the two tokens will fuel a system of symbiotic growth. As $XPRT works to bootstrap new use cases within the Persistence ecosystem and $PSTAKE drives progress beyond, demand for stkASSETs will therefore increase via increased scope and utility. In turn, this will accrue value for $XPRT via Persistence chain transaction fees and fee sharing.
Read our article here to learn more about the relationship between $XPRT and $PSTAKE.
Major Developments
Aside from the deployment of the incentivised XPRT/UST pool on Osmosis, as described above, one of the most notable recently completed developments is $PSTAKE bridging. Through Gravity Bridge, $PSTAKE can now be bridged from Ethereum into the Cosmos ecosystem via the Persistence chain, providing more utility and interconnectivity across the other chains within the network. Bridging went live on March 8 2022.
Upcoming developments currently underway which will be instrumental in our next phase of expansion include:
Additional stkASSETs on pSTAKE: As the pSTAKE ecosystem begins to branch out, we plan on soon adding an additional set of supported assets — this will include ETH (stkETH) and SOL (stkSOL) for Ethereum and Solana token holders, respectively. This is expected to roll out in April 2022.
pSTAKE Launch on Persistence Chain: pSTAKE will be launching on the Persistence Core-1 chain, which means stkASSETs will be available and interoperable within the Cosmos ecosystem via IBC — thus increasing DeFi utility and accessibility of stkASSETs within the broader ecosystem. The implementation is currently underway, expected to go live in Q2 of 2022.
Launch of stkASSET/stkASSET Pools: We will soon be deploying stkASSET/stkASSET liquidity pools (e.g. stkATOM/stkXPRT). LPs of these pools will not need to deploy any unstaked capital and will earn staking rewards and LP rewards with 100% of their pool position, maximising yield. This will encourage stakers to hold multiple stkASSET tokens, accelerating the adoption of pSTAKE. Expected to launch in Q2 of 2022.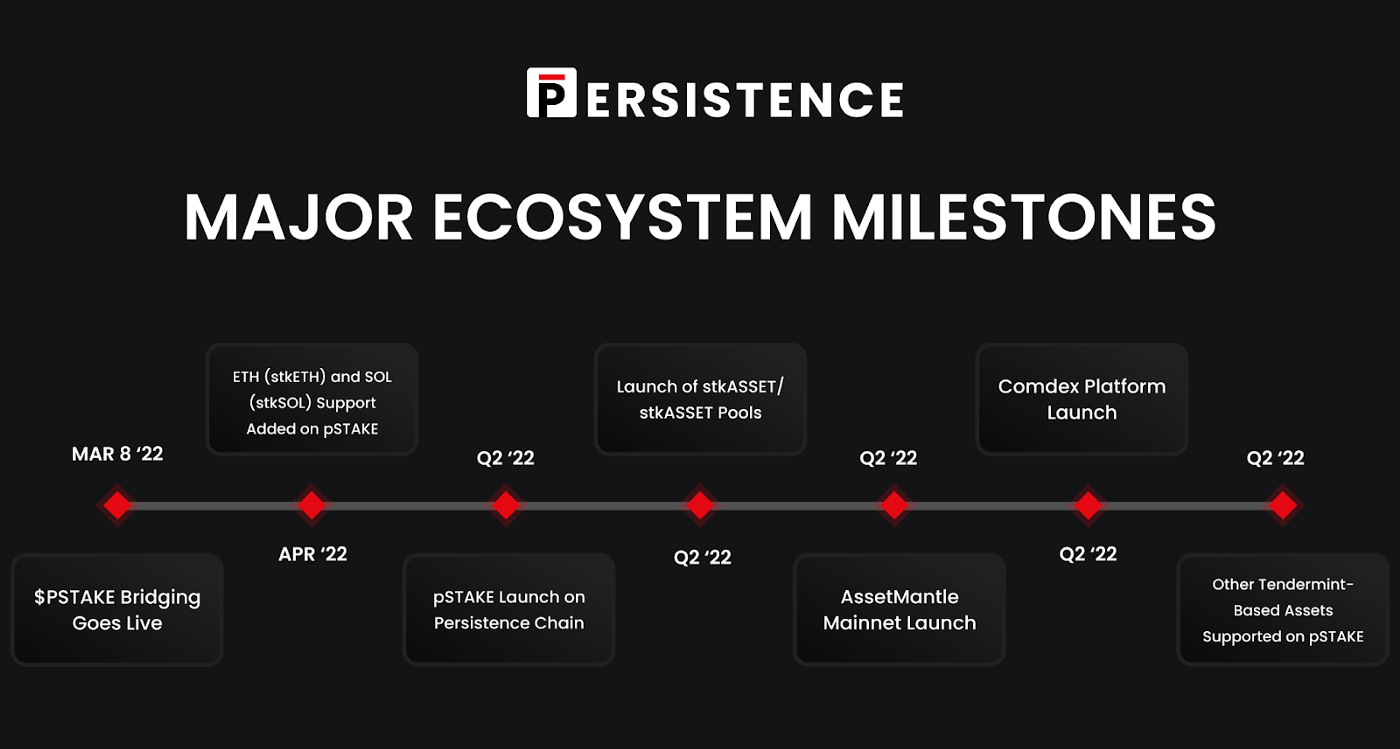 Onward to a New Paradigm in PoS
With our vision clearly in mind, our team is putting our foot on the gas and is making consistent progress when it comes to key developments and accomplishments.
Every development and integration milestone brings us a step closer to making liquid staking the default staking choice of the PoS economy. The Persistence ecosystem is strongly positioned to both drive, and derive value from, significant growth of the liquid staking industry in 2022 and beyond.
About Persistence
Persistence is a Tendermint-based, specialised Layer-1 network powering an ecosystem of DeFi applications focused on unlocking the liquidity of staked assets.
The Persistence chain facilitates the issuance and deployment of liquid-staked stkASSETs, allowing users to earn staking rewards while participating in DeFi primitives, such as lending/borrowing and liquidity provisioning on DEXs.
Persistence aims to offer a seamless staking and DeFi experience for PoS (Proof-of-Stake) users and enable developers to build innovative applications around stkASSETs.
Join Our Movement
Twitter | LinkedIn | Telegram | YouTube | Reddit | [email protected]