Note: Persistence has pivoted to liquid staking and building DeFi primitives to increase the utility for staked assets. This article is only for archive purposes. 

(Visit here to read our latest blogs)
TL;DR
As the broader Cosmos ecosystem continued to expand and mature throughout 2021, so did the Persistence network and our multi-sector product suite.
In March, the Persistence Core-1 mainnet was launched alongside the $XPRT token public sale on AscendEX. The network has continued to strengthen throughout this past year in terms of all measurable metrics.
We began building out our product suite through the introduction of various Persistence ecosystem projects including pSTAKE (our liquid staking platform).
pSTAKE have made significant progress in recent months.
The Ever-Expanding Cosmos
In 2021, we witnessed significant growth in traction of the Cosmos ecosystem. Totaling a $170 billion market capitalization, $73 billion of which being split across 28 IBC-enabled blockchains, this is testament to the Web3 space's embrace of interoperability.
Accompanying this prolific growth came the expansion of the Cosmos ecosystem. Each of the 262 dApps built on top of the Cosmos SDK offers added utility, and when used in tandem, can contribute synergistically to the underlying protocol.
To celebrate and explore this monumental progress, in October Persistence hosted Cøsmos SZN, a virtual event inviting Cosmos thought leaders and community Cosmonauts alike to come together to discuss how far Cosmos has matured, recent IBC developments and the inevitable disruption coming to the Cosmos DeFi and NFT sectors.
As this expansion occurs, Persistence is beginning to flourish within this budding ecosystem by developing our own. An ecosystem rooted in utility, designed to stimulate global liquidity and enable seamless value exchange. An ecosystem tailored to service the economy of tomorrow comprehensively.
The Rise of Persistence
2021 marked the second anniversary of Persistence's existence and proved to be a defining year; Persistence began to come into its own. In March of 2021, the Persistence network first breathed life with the launch of our Core-1 mainnet, bringing us one step closer to realizing our vision to build an ecosystem of multi-chain Web3 products for retail and institutional users.
Our vision resonated with the global Web3 community, which contributed to the successful launch of $XPRT, Persistence's native utility token. One day after our Core-1 mainnet went live, we conducted the $XPRT public sale on AscendEX — a huge success at ~13x oversubscribed. Since then, $XPRT has been listed on a variety of centralized and decentralized exchanges.
This year, we secured multiple partnerships and collaborated with key industry players, which have assisted in building out the Persistence ecosystem. These partnerships and collaborations include the likes of Tendermint, Injective Protocol, Terra, Razor Network, Kava, Polygon, Huobi Pool, Cosmostation, IRISnet and InfStones.
The Persistence network continued to go from strength to strength, consistently growing in terms of all measurable metrics — from $XPRT wallets to network validators and bonded token ratio (currently 85% — among the highest in the industry).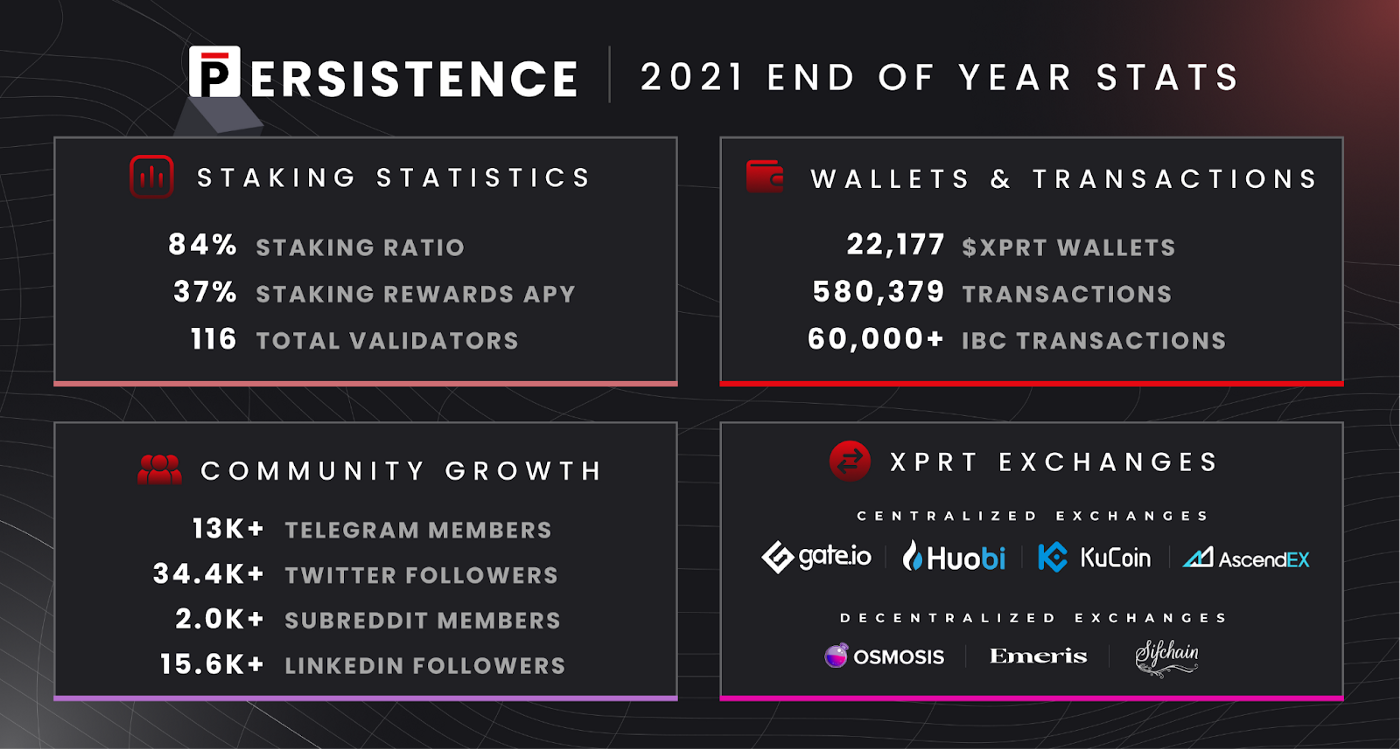 Amid rising traction, we continued building. Throughout early to mid-2021 we constructed the infrastructure needed to launch our comprehensive product suite being built in the background, targeting emerging sectors in the industry in need of innovation to thrive.
"As an entrepreneur, you have to see 6, 12, 18 months ahead and create the right products at the right time." — Tushar Aggarwal, Co-founder & CEO of Persistence
PoS and Liquid Staking: AUDIT.one and pSTAKE
Given recent environmental concerns regarding Proof-of-Work (PoW), Proof-of-Stake (PoS) has grown rapidly due to its more sustainable nature, in addition to its technical advantages. With billions of dollars seeking yield every year within the PoS space — a figure growing by the day — PoS is swiftly becoming the dominant consensus mechanism of choice.
In March, Persistence hosted Proof-of-Stake: The New Paradigm, a virtual event focused on bringing together PoS networks, projects, validators, and leaders to facilitate discussions around developments, challenges, and opportunities in the PoS space.
AUDIT.one
To help ensure the security and resiliency of delegated Proof-of-Stake networks, AUDIT.one was launched to provide enterprise-grade validator infrastructure. Throughout 2021, AUDIT.one served as an increasingly critical component in securing various PoS networks in the Cosmos ecosystem and beyond — currently supporting 15+ chains with over $250M of assets under delegation.
Follow AUDIT.one on Twitter to keep up with the latest updates.
pSTAKE
While PoS is undoubtedly becoming more prominent in the digital asset space, the primary drawback hindering the continued growth of it and the DeFi industry is the locking up of digital capital. To secure PoS networks, stakers' funds are rendered illiquid for their staked duration. This ultimately slows capital velocity and reduces the amount of capital able to participate in DeFi.
In an attempt to resolve this pain point, pSTAKE was introduced into the Persistence ecosystem. The protocol aims to alleviate the illiquidity experienced for staked assets through a mechanism called liquid staking. By issuing 1:1 pegged ERC-20 representative tokens, users can secure PoS networks natively and have the ability to participate in Ethereum DeFi at the same time, increasing available capital and unlocking opportunities for increased yield.
pSTAKE went live in July 2021 and was embraced by industry powerhouses including Galaxy Digital, Tendermint, Kraken Ventures, Coinbase, and others, leading to a $10M+ raise during its strategic funding round.
In December, pSTAKE hosted their $PSTAKE token sale on CoinList — a premier platform that helps Web3 projects connect with new token holders. pSTAKE's approach to liquid staking was met with such enthusiasm from the Web3 community that the sale was the most subscribed in CoinList history, and sold out just 45 minutes into the 6-day sale period.
pSTAKE has launched liquid staking support for Cosmos' $ATOM and Persistence's $XPRT tokens, with support for more assets such as $ETH (Ethereum), $SOL (Solana), and other Cosmos-based assets coming soon. Since launch, more than $42M of $ATOM and $XPRT has been staked by pSTAKE users and the liquidity of stkTOKEN-ETH pools on SushiSwap now stands at over $25M in TVL.
2022: Onward to a Bright Decentralized Future
As traditional finance begins to warm up to the digital economy, there will be an increased need for decentralized institution-ready products. Persistence is positioning itself to be the beneficiary of institutional capital inflows, as well as providing new opportunities and value to retail participants of the DeFi, NFT and PoS sectors.
By offering broad exposure to multiple sectors within the Web3 space, Persistence simplifies the process of navigating the digital economy. With the further development of our comprehensive product suite, we plan to assert our presence in all areas of the industry and invite you to join us on that journey.
About Persistence
Persistence is a Tendermint-based, specialised Layer-1 network powering an ecosystem of DeFi applications focused on unlocking the liquidity of staked assets.
Persistence facilitates the issuance and deployment of liquid-staked stkASSETs, allowing users to earn staking rewards while participating in DeFi primitives, such as lending/borrowing and liquidity provisioning on DEXs.
Persistence aims to offer a seamless staking and DeFi experience for PoS (Proof-of-Stake) users and enable developers to build innovative applications around stkASSETs.
Join Our Movement
Twitter | LinkedIn | Telegram | YouTube | Reddit | [email protected]